I have to admit that the second half of 2018 was a mixed bag. There was the Camille roller coaster - emergency surgery and recovery, and we were cruising and full of hope. There was the loss of our beautiful matriarch Comet, whose praises I could sing for the next 14 years. On the heels of Comet's loss, we suddenly and cruelly lost our darling Camille, who was seemingly making such a beautiful recovery from her bloat surgery only to go into liver failure on Friday and take her last breath Monday morning, just a couple of weeks shy of her 6th birthday. Camille was not born and bred here, but she was part of our family and we intensely miss her.
We welcomed a a most unique and wonderful litter of 8 and with that, spayed and retired our brown brainiac, Juno. I have 2 promising show pups from Juno's litter - Violet, who will reside with me, and Damon, who now lives in KY with his owner handler. Of course, I still have Cocoa from Juno's first litter. She regularly entertains the family, and we are expecting a sizable litter out of Natalie in just a few more weeks! We also had a fun and unexpected 'old man' of a stray rescue standard poodle. We enjoyed that experience and even took in a non-poodle foster for a bit of a rehab and rehome (think I'll stick to poodles!)
Many who have been following me for the past few years will remember my "Lil bit." Lil bit was #12 of her dam's second litter. i worked very hard on her. I was oh, so proud of my big accomplishment when she survived against all odds. We had over 500 cheerleaders on social media, showing support and kindness and encouragement. She was lovingly placed into one of the best homes a poodle could want and with a trusted friend and guardian of her dam, Cali, Lil bit - now Roux- went to live happily ever after.
Earlier this week, I was notified that Roux was diagnosed with Addison's disease. Her owner's quick action most certainly saved Roux's life. The symptoms that brought Roux's owner to the vet were mostly lethargy, refusing her favorites, and GI upset. Because of her owner's experience with Addison's (AD) she was able to tell her vet to test for it and potentially save a lot of time and (money) getting the correct diagnosis so soon.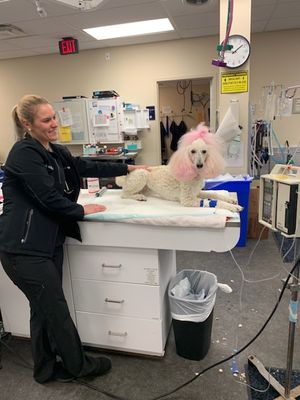 On the topic of money - ANY emergency in ANY dog can cost thousands of dollars. The cost of veterinary care can easily become exorbitant. I am now recommending that my puppy owners consider pet health insurance. I like to think pawsitively, but the reality is that any emergency in any pet can hit your wallet hard.
We cannot predict Addison's disease. We cannot predict who will have it, who will be free from it , or when, if ever, it will present.
What I wouldn't give to know!!!
What we do know: Stress is a trigger for the expression of autoimmune diseases such as Addison's. Stress can be mental or physical. Some examples include: over vaccinating, a visit to the groomer, boarding at a strange kennel, overheating, a new pet, a new baby, big move, evacuation, big life events, etc...These are all stressors.
It is vital to socialize your puppy, carefully and sparingly vaccinate, and pay attention to any behavior changes. This is NOT the sort of post that I enjoy, but I do not want my puppy owners to spend thousands or lose their dog or be unable to care for it should something like this occur.
If you have ANY poodle from ANY line, please read up a bit on Addison's disease. It affects over 64 purebreds, mixed breeds, and even humans.
 Tens of thousands of dollars have been donated to research efforts, but the mode of inheritance is still not understood. It is said to be more common in females with the average age of diagnosis around 4 years.
Addison's is said to be imprinted in the standard poodle breed. UC Davis is working very hard to find the mode of inheritance. They believe it is related to immune diversity, as poodles were so tightly line bred at one time (and still are in many lines). Almost every poodle is related to each other, even if not closely related in the first few generations. This was done to cement certain breed traits, and can be a very useful breeding tool, however the long term effects of this "bottleneck" are loss of immune diversity. It is likely going to take several decades of careful and selective breeding of healthy dogs - even those related to affected dogs- to reverse the trend. This is a relatively new concept to many long time breeders, and it is going to take some time for the proof to be in the pudding. Meanwhile, diversity testing, pedigree knowledge, honesty and openness about poodle health among breeders and tracking the health of our puppies are the best tools we have.