Misha & Lombardi's puppies recently turned six weeks old. My friend and retriever trainer, Paul (Lakota Retrievers) suggested we bring them to have a little swimming lesson at his beautiful property in Covington, Louisiana. Of course, I said "Oh yeah!"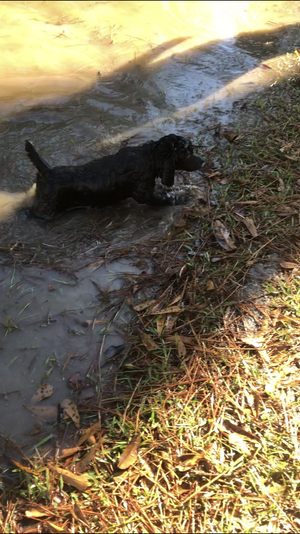 It was a perfect, Sunny day for an intro to the water. All twelve had a couple of swims, along with a complete shampoo and blow dry as soon as they came out of the pond. Thanks to the great help, it was a wonderful experience. They slept amazingly well that night.
I did go home with a frozen bird, and showed it to them the next day (bleh). All showed great interest in the item, its texture and smells. I am not personally a hunter, but it's been a fun experience to dip my toes into the arena and watch the poodles show their instinct to their original bred-for purpose. I like to believe that there are many pups in this litter who would gladly do the task, if properly placed and trained.
I DO strongly believe that each of these pups will go on to be wonderful family companions. This post-weaning socialization period with their dam and littermates is an invaluable time of their lives. I am so pleased to see the rest of my pack interact so expertly with the very young, and immature puppies. There is no dog in my household that I would not trust to safely interact with them- even clumsy Number Five.
 This is also such an integral experience for them, as the older dogs, all different in temperaments and patience levels, will safely teach them something about canine interaction. It is truly exceptional to witness, and I consider myself privileged to have this experience.
These puppies are fun-loving, social, and spunky. They are also beautiful and playful.
***There are currently a handful of pups from this litter that have not yet been reserved -mainly black/females- Please EMAIL 1st - maria@cadeaupoodles.com if you are interested. I will happily chat with you and meet you at some point if we move past the initial email. I don't mind the phone, but it tends to take up a lot of my time - time that I need for my family and poodles - so please do understand and be patient. If you do call me, please leave me a message or a text (preferred) and let me know who you are and why you're calling.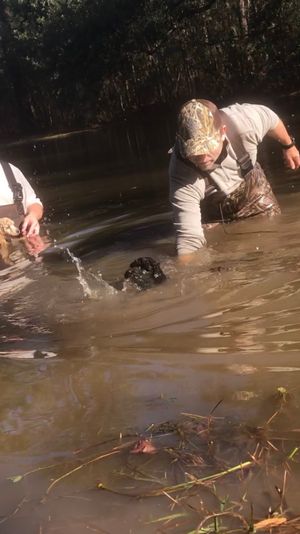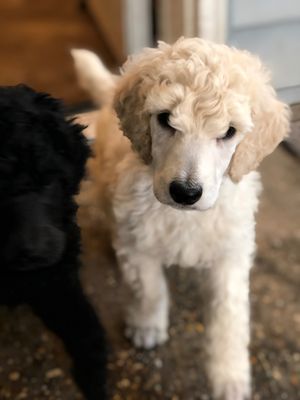 Within the next couple of weeks, they will be getting temperament tested, vet checked, and evaluated for structure (this is ongoing, but generally more telling at 8 weeks). Many of them will be going to their waiting families as well, after evaluations. The thought is bittersweet. I grow so bonded to these puppies, as I make their physical and social development the main focus of our time together. Their development is so swift, that if you put it off, you miss windows of opportunity to make each pup a little stronger in some way. Many thanks to my amazing family and team of support. I could not do it without them.
These pups are awesome! They are cooperative, clean, loving, and quiet when put to bed. They are eating well, playing and active but sleeping appropriately, too.