Most newcomers visit the blog for news of upcoming litters, but there are some who faithfully follow my program. I used to do this myself, in the days when I dreamed of being a poodle breeder. I could swear that sometimes I knew the family trees of some poodles almost as well as their breeders did.
So as not to leave anyone hanging in suspense - Misha and Lombardi were recently bred. Visit Misha's page for more info. There is a bit of an 'informal' waiting list starting, but I will not accept any deposits on this litter until I have a confirmed pregnancy via ultrasound, which will be in about 4 weeks. Anyone seriously interested in this litter is encouraged to contact me for a puppy application. This breeding has been planned for years, and I'm very much looking forward to this litter.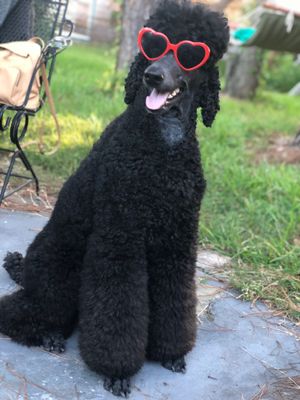 On July 27, Ch Cadeau Sweet Devotion "Violet" finished her AKC Championship at 11 most old! She earned her first major and single with Jody Garcini. Jody's little girl was starting school, and she wasn't going to be showing for a while. Lucky for us, Sarah Perchick agreed to take Violet on to show for me! She finished her remaining points including four and five point majors with handler Sarah Perchick! 
 Following on her heels was her brother "Damon," CH Cadeau's Batteries Cost Extra, who finished his AKC Championship in style winning 3 Majors in a row in Canfield, OH with handler Ann Rairigh. I am so proud of these two puppy champions out of the Juno x Lucky litter!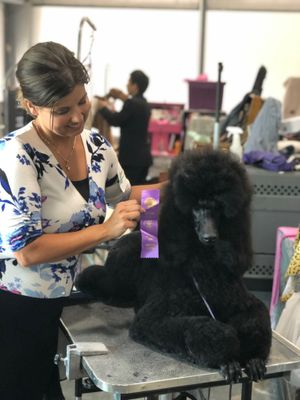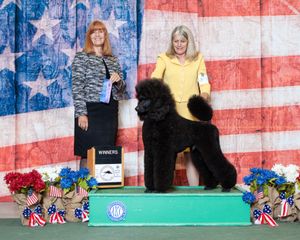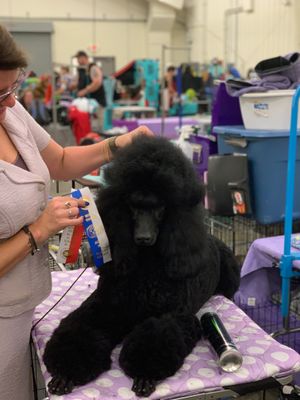 Noodle's Poodles - Number Five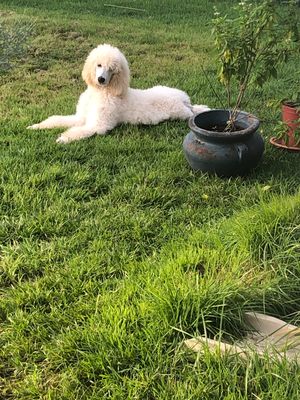 This little cutie pie is from Natalie x Silver Spring 2019 litter. He was the 5th puppy born, but he's named after the character "Number Five" in The Umbrella Academy. My daughter and I recently watched this series on Netflix and Five was her favorite of the Hargreeves children in the show. As the puppies were being born, my son Anthony was naming them with whatever name popped into his head. Jillian announced that she was naming the next puppy. "It's a white one - a boy," I exclaimed. "What number is that?" she asked. "Number five," I called back, vigorously wiping him, then putting him to his dam to nurse. "Fantastic" she said, and we both knew what she meant. Natalie whelped a total of 3 white puppies in her litter of mostly blue/black (13 puppies total) - "Vanya" the angel that we tragically lost in the whelp after being stuck too long in the birth canal; Klaus, who was born the next morning and now resides with my long time poodle friend Kate, and Number Five, the little white pup pictured above. Five is a source of constant entertainment. He is growing up beautifully. He was always a standout to me. 
With the ease of updating on social media from anywhere with a few movements of the fingers, I have to admit that I have casually fallen away from the "good old days" of blog post updates. With each passing crunch of time, I feel my eyes straining a bit harder to see the fonts that I previously found more than adequate. I feel my back screaming in protest after a period of grooming, an hour sitting on the floor or brief time working in the yard. I feel my interests wandering, my spirit being moved in previously overlooked ways, and the need for my children to have more than fleeting guidance as I juggle work, poodles, and the house. I am at a crossroads in my breeding program as well. I could never quench the passion and love for my dogs or the joy of whelping and raising the litters, but I do not have plans for any puppies to be born here next year. We are wrapping up 2019 with Misha and Lombardi and will revisit a planned litter again when Olivia and Violet are older and have their health testing.
  Olivia is making great progress with her field work and I'm hoping we can get her on her way to a field title at the next trial. She earned her instinct title in Barn Hunt this weekend with Paul Kartes of Lakota Retrievers. I am very proud of my little, diverse poodle pup!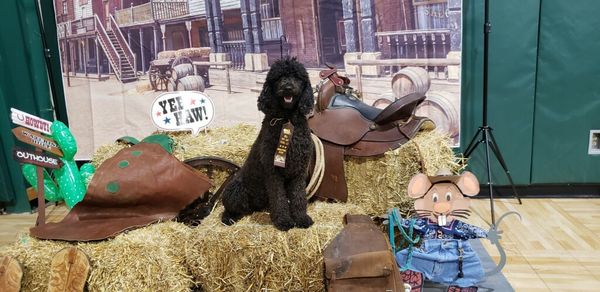 Violet is home enjoying herself and getting snuggles every night with her sister Cocoa and my son, whose bed they frequent. We affectionately refer to them as "the snuggle sisters." Number Five, a constant source of entertainment, is growing into a beautiful young dog. I am hoping to get our feet wet by taking him to a few dog shows soon. As always, our plate and hearts are full.