These 3 lovely black/blu girls are looking for their Valentines <3
Miss Rust, Miss Pink, & Miss Green 
Miss Rust is a happy go lucky, easy to get along with, middle of the road kinda girl. She will rise to the energy level needed for the day but is also pretty happy just hanging out- once she gets her zoomies out of the way! I think Miss Rust would be the perfect pup for an active, large family. She has the "rough and tumble" quality of a tomboy and treats her surroundings as a playground - climbing, exploring, and jumping. She is going to be a lot of fun!
Miss Pink was one of the smaller pups and is lighter than the other girls. She is content to cuddle up and feels that most of life's scary situations can be overcome with a hug. Miss Pink had a rough first week, and it was a group effort to always keep her fed and warmed in the sea of her littermates. In an effort to reduce her stress in the neonatal period, I left her dewclaws intact. This is the first pup I have ever left natural in this way. She quickly caught up nicely to her littermates, however, but she still sighs and snuggles into me when I pick her up, causing any negative feelings to instantly dissipate!
Miss Green is a sweet and devoted little girl, once she decides that she loves you! She may ignore you until then, though - it's not personal! She is the most independent of the available pups, and has a bit more hesitation in new situations than her "bull by the horns" littermates. She is polite, quiet, and it is my personal belief that she would make an amazing therapy dog as she is not overbearing and in your face; however she is pleasant and gentle, responding well to affection and interaction. 
All of the pups scored mostly 3s & 4s on Volhard testing. I have spent the extra time with them reinforcing table/groom training, short sessions in the crate, on the leash, and in the car, as well as individual, daily, enrichment activities. The pups enjoy their little obstacle course featuring a tunnel, slide, seesaw, and boogie board. They are between 10-15 lbs right now, and although they are heavy, they are perfectly content to be carried around the house. When turned loose in the big yard, they happily tear through it, chasing each other round and round. One observation I have made with this litter is that they tend to stick together. Rarely am I looking for a lone pup. Several of them fall in line beside me in my own duties and housework, looking for guidance and engagement. They are clever, thinkers, and problem solvers as a whole. As always, pups are vet checked, microchipped, up to date on shots/wormed, and training initiated. All puppies are sold with a written health guarantee and lifetime support.
Please contact me for more info or if you would like to send me an application for one of the available black/blue girls. DOB 11/20/19 -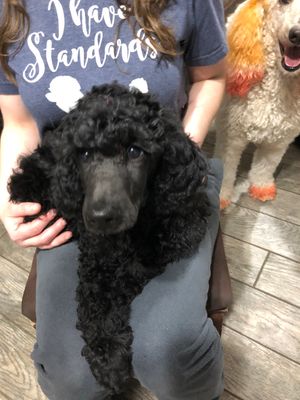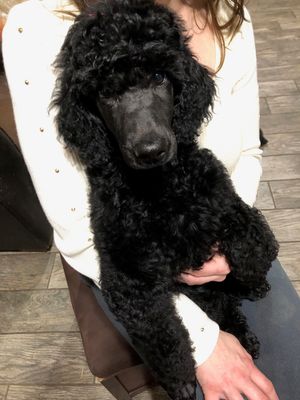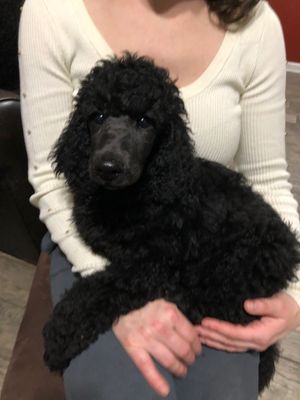 Whew! I am so thankful for another round of robust pups. What a wild ride this has been. Whenever I have a litter, the goal is always to keep the pup which most suits my goals at the time. If my picks have inherited the characteristics I was aiming for out of each parent, I count myself blessed. While raising pups takes "carpe diem" to the next level, I am looking forward to a much needed break to focus on training and socialization for my keepers as well as post-champion goals for Violet, activities for Olivia, and a little time to breathe, watch, and appreciate the fruits of my labor.