"Noodles" is the nickname the kids gave our sweet Natalie. We have been anxiously awaiting her first litter of puppies since the pregnancy was confirmed. Natalie whelped THIRTEEN puppies between April 14 & April 15! That's right. I have had litters of 10 and 12, but this was a new record. It's like two litters in one! Needless to say, we have been very busy over here!
Here are some snaps of the babies, and a little glimpse into what it takes to whelp a litter of 13.
I have sweet baby boys available to pet homes! Contact me for more info or a puppy application.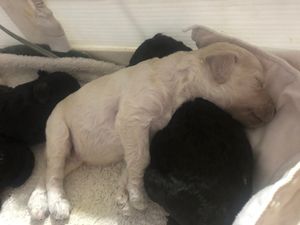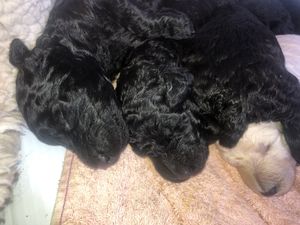 Unfortunately, I lost a puppy during the delivery - another first for me. It was a difficult whelping for several reasons, not the least being a stuck puppy around 3AM. Noods was tired; I was tired, but the pups kept coming. I saw the little white tail come first, then disappear back inside of Natalie. Out again, and back in. I tried to stay calm. I knew what this meant. Pup was in a difficult position. had hoped for more whites. I had hoped for more girls. Sometimes we have to let Mother Nature deal the cards and accept the outcome. I never whelp without my phone turned on to the Canine Reproductive Facebook Group. They are truly wonderful! I used all the tricks that I knew for a stuck puppy. Natalie finally was able to push her out enough for me to get a grip and pull her out the rest of the way, but I was too late to save her. She took one gasp and never did again. I worked on her, not wanting to believe it. Not wanting to accept it. Again, I tried all I knew save her. Finally, Natalie delivered another, seemingly lifeless puppy, and I had to resign my only white female, pulseless, to the side, and work on bringing the new pup's lungs into function. It worked for him. There were no more losses that day.
Shortly after the birth, I posted about another first - a pup that was born with a cleft palate. A few hours after I was sure Natalie was done and safely under the watch of my invaluable and experienced daughter, I made a "flying" trip to AL to put him with a foster of the Mia Foundation, an organization whose fosters work tirelessly day and night to raise pups born with issues such as cleft palate. I had NO experience with this issue and was more than happy to turn him over to someone who knew more than I did! I am sad to report that little Onyx was not able to be kept alive under his foster's care, although I know with everything I have that she gave it all she had. The Mia Foundation is truly a wonderful organization, and the silver lining to Onyx's loss is that more awareness has been spread about this beautiful organization, and we were able to raise close to $500 for the Mia Foundation in just a few days.
As a breeder, I know full well that loss is to be expected. I was reassured by MY support team that my numbers were still amazing, considering the size of the litter. I am watching Natalie like a hawk for any postpartum issues. We have gone broke buying calcium supplements and laundry detergent; eleven babies is still a lot of work! 
There were 8 males and 3 females surviving; 2 white pups in all (both male). The pups and Noodles are in my bedroom and have made for very scattered sleep in the last two weeks.
The puppies are growing beautifully. I have them marked with nail polish, so I can make sure all are fed and thriving. We have some standouts already, for various reasons. Some of the little ones have caught up to their littermates. The kids named a few of the pups. I have no idea where they come up with these weird names, but it's their way of being involved, so... It has been a labor of love ,and every one in my support system has been incredibly helpful in the rearing of this most precious and sweet litter.
Every time I have a difficult or particularly labor-intensive litter, I jokingly say I am going to charge $10,000 each for the puppies. There is no price that can be put on sleeplessness, or the watchfulness that comes with a first time dam who isn't quite catching on right away, for whatever reason. There is no candle that masks the scent of puppy poop in your bedroom (although that Crest-o-Mint from Rouse's is top notch), or the smell of boiling liver in your kitchen, while making the famous mama's (stinky) stew. There is no magic wand that mixes the perfect balance of goat's milk, liver water, yogurt, baby beef, fading puppy formula, and eggs in the middle of the night, and clean bottles, too. There is no 1-800 number to call when you're struggling to keep a puppy alive. There is NO alarm clock that works as efficiently as the sound of a muffled screech that can only be a baby getting squished under her dam! There is nothing that compares to finally drifting off to sleep after your 3am feedings, poop wipings, and towel changes, only for the dam to decide that this is the perfect time to get back in the box and disrupt all of the babies who just dozed off, creating a squawking puppy frenzy. There is no greater heartbreak than crying on the phone with another owner when it's time to say goodbye. 
A breeder can feel all of these things in the span of one single day, and these are just related to puppy time! Showing, titling, testing, grooming, training - ALL of those activities come with great cost - mental, emotional, physical and of course, financial. When you love your dogs as pets first, it can be heart wrenching to send them off to a new handler - no matter how trusted and skilled. I will ALWAYS worry when that person doesn't answer the phone or a text. I will ALWAYS worry when a puppy owner goes off the grid, and I can no longer get my cherished "pupdates". It is a stressful way to live. I assure you, I could work TWO overtime shifts and earn what I NET on puppy sales in one year.  Instead, I answer emails and phone calls and try to remain polite when someone says "I wasn't expecting them to cost SO MUCH!" 
So why breed dogs?
Why go through this over and over, if not for the money or the fame?
Why?
This has been a question I have pondered heartily over the years. As I brought my fourteenth standard poodle litter into the world, I asked myself again. Why?
Because I love this breed. They are worth preserving.
I love my dogs. They are worth the expense, in every way.
I love my puppy families. They are amazing extensions of my adoration for my pups; We have carefully hand picked one other.  
There is true joy in ownership of poodles.
There is magic in sharing your life with these majestic animals.
There is so much to learn in giving your heart and time to one.
There is so much to be gained from the investment, whether it be a rescue, a breeder purchase, or one acquired in some other way.